I was going to write my own mini-review as my honey and I just got back from Draft Day and we both enjoyed it. Then I found this review through RottenTomatoes.com. (I'm pretty sure my wife was hooked when she heard Kevin Costner was in it.) As long as the people watching don't hate football I think it's a surprisingly good movie for date night. Also, if you're a couple that hasn't been to the movies for a long time, this is a great choice to bring you back to the movies.
NorthShoreMovies.net
With Kevin Costner, Chadwick Boseman, Jennifer Garner, Frank Langella, Denis Leary. Directed by Ivan Reitman. Written by Scott Rothman & Rajiv Joseph.Rated PG-13 on appeal for brief strong language and sexual references. 109 minutes.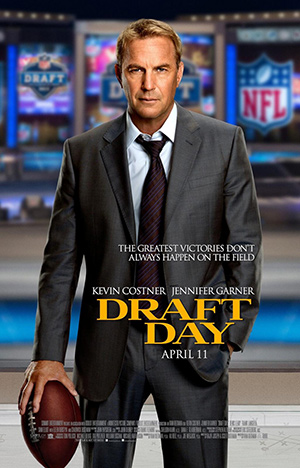 You don't have to like sports to enjoy sports movies and you don't have to know the first thing about football to enjoy DRAFT DAY. What little you do need to know on the subject the film fills in. This is a movie that, like "Rush" (about auto racing) and "Moneyball" (about baseball), is a powerful drama that transcends its source material. None of that is to say that football fans won't find this especially fascinating.
Kevin Costner stars as Sonny Weaver, general manager of the Cleveland Browns. Apparently the Browns are a team that hungers for a Super Bowl victory the way the Red Sox used to crave the World Series. It's the day…
View original post 540 more words